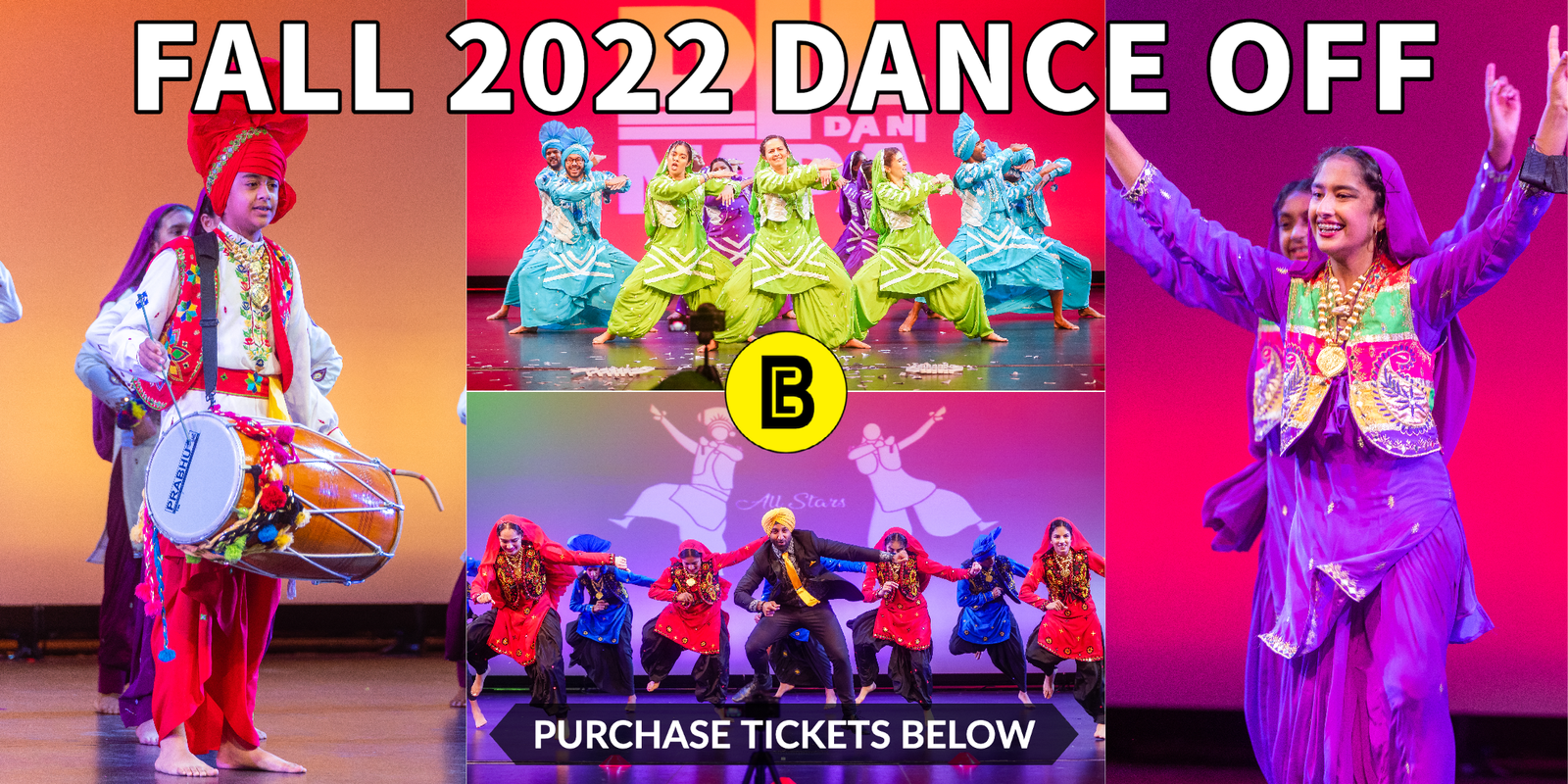 TURBAN TYING SERVICE - ROYAL TURBAN TYING SERVICE
Fall 2022 Dance Off
---
Date: October 22nd, 2022
First Show: 1:00PM - 3:00PM
Second Show: 4:00PM-6:00PM
Castro Valley Performing Arts Center
19501 Redwood Road
Castro Valley, CA 94546
PURCHASE TICKETS HERE!
---
Students that are enrolled in the Fall 2022 Class session and are participating in the Dance Off do not need to purchase tickets. All other attendees must purchase a ticket.
Show Information
---

Bhangra Empire is proud to announce it's Fall 2022 Dance Off featuring performances from students across all of our classes! Held at the Castro Valley Performing Arts Center, the Dance Off will provide students an opportunity to showcase what they learned on an amazing stage. Come out and support all of our students, enjoy an entertaining show, and watch a special BRAND NEW performance by Bhangra Empire!
Tickets are $30 each and can be purchased online. Our Dance Off normally sells out so please purchase tickets in advance. If available, ticket prices will increase on the day of the show.
---
FIRST SHOW ORDER 1:00 PM
---
Dublin Beginner Adults
Dublin Beginner Kids (Juniors)
Bhangra Empire Little Stars
Sacramento Beginner Kids
Dublin Intermediate Adults
Bhangra Empire Shooting Stars
INTERMISSION
Sunnyvale Beginner Kids
Sacramento Beginner Adults
Bhangra Empire All-Stars
Dublin Beginner Kids (Seniors)
BHANGRA EMPIRE
*Show Order subject to change
---
SECOND SHOW ORDER 4:00 PM
---
San Jose Beginner Kids
Fremont Beginner Adults
Bhangra Empire Rising Stars
Fremont Intermediate Kids
Fremont Beginner Kids
Mountain View Intermediate Adults
INTERMISSION
Mountain View Beginner Adults
Fremont Intermediate Adults
Bhangra Empire Shining Stars
San Jose Beginner Adults
Mountain View Advanced Adults
BHANGA EMPIRE
*Show Order subject to change
SHOW DETAILS
---
Show Meeting Time: If you are in the first show, doors will open at 12:30PM. If you are in the second show, doors will open at 3:45PM. Nobody will be allowed in the theater before doors open. If you are meeting early to practice with your class or to get ready, it will be outside of the venue. Please coordinate times with your teachers.
Performer Seating: There will be a section for performers to sit with their classes and watch the show. Your teacher will let you know where that is.
Pagh and Chadra Help: We are still finalizing this, however we hope to have somebody before each show helping tie Paghs and Chadras. Stay tuned for more details on that.
Outfit Rental Return: If you rented outfits from Bhangra Empire, please return them after the show in the packaging you received them including all the bags. We will have a designated person handling that in the lobby. Please do not return outfits to your teachers. If you do not return your outfit after the show, you will need to return it in Dublin by Monday October 24th.
Awards: We will be awarding a Viewers Choice Award in each show and one MVP per class/team.
T-Shirts for Sale: Brand new exclusive Bhangra Empire Shirts will be for sale in the lobby. Youth shirts will be $20 and adult shirts will be $25. Cash is preferred and limited sizes and quantities are available.
Tickets: If you are attending both shows, you only need to purchase one ticket